McGill AirSilence offers three main types of panels for its acoustical curtain systems: double-layer blocking, single-layer blocking, and absorption in thicknesses of 1, 2, and 4 inches. Transparent panels are also available. Fibersorb acoustical curtain systems are sized and configured to meet the specifications of each application.
DOUBLE-LAYER BLOCKING PANELS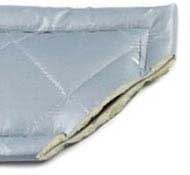 The versatile double-layer blocking panel is ideal for isolating multiple noise sources located on both sides of the panel. It consists of a vinyl barrier sandwiched between two layers of 1-inch-thick fiberglass insulation. The double-layer blocking panel absorbs noise and blocks transmission of sound coming from both sides of the curtain.
SINGLE-LAYER BLOCKING PANELS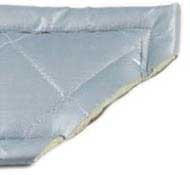 The single-layer blocking panel is ideally suited for isolating a noise source located on one side of the curtain system. A single-layer panel is designed with 1-inch fiberglass insulation sewn into one side of a vinyl barrier. The insulation absorbs noise, and the vinyl barrier blocks its transmission to other areas.
ABSORPTION PANELS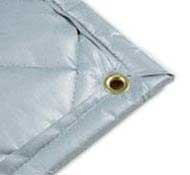 The absorption panel does not block noise; it only absorbs it. The system consists of 2-inch quilted fiberglass panels that are usually attached to an existing wall or barrier to reduce reverberant noise.
An alternative to McGill AirSilence's free-hanging acoustical curtains are our mobile acoustical barrier screen, wall panels, and overhead ceiling baffles.
ACOUSTICAL BARRIER SCREEN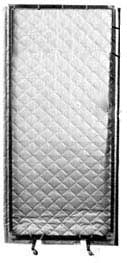 Standard acoustical barrier screens run 4 feet wide by 8 feet high, but custom-made screens are available. The screen consists of an 18-gauge steel frame with supporting legs and curtain panels which are fastened to the top of the screen with grommets. Barrier screens are an effective means of noise control where mobility is desired.
ROLL GOODS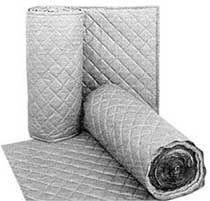 Curtain material is available in 25- to 50-foot lengths (custom sizing available)
Standard width — 48 inches (custom sizing available)
Available with bound and sewn finished edges or unbound edges
CURTAIN WALL PANELS AND OVERHEAD BAFFLES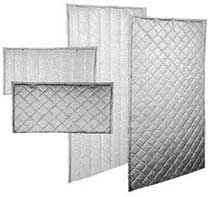 Curtain wall panels and overhead baffles are availabe in the same panel materials and types as our standard curtain systems. Standard sizes are 4 feet wide by 8 feet long.
Reduce reverberation
Add sound absorption
Lower noise levels
Tone room, and turn hard reflective surfaces into soft, sound-absorptive surfaces
Improve communication
CURTAIN SUPPORT FRAMEWORK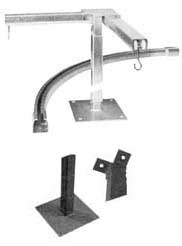 Standard curtain track and hardware system is manufactured from heavy-gauge galvanized steel components
Floor-mounted, beam-mounted, suspended, wall-mounted, and ceiling-mounted styles are available
Double-track configuration allows for slide-by access at any point
Curved corner options allow for even greater access
Type H-D heavy-duty frame (optional) features structural steel tubing for maximum strength to accommodate larger enclosures.